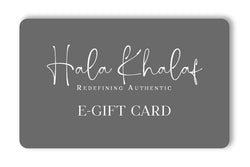 Looking for the perfect gift for a loved one? Check out the E-Gift Card for a convenient and easy-to-use digital gift card that is tailored to your recipient's needs. Enjoy the luxury of being able to purchase the card at your leisure, as well as give it as an easy-to-use electronic gift.

A FEW THINGS TO NOTE:
• Add E-Gift Card to cart and you will  receive an email that contains a unique gift card code that can be used at checkout to redeem its value. If you want to send it directly to your recipient be sure to add their email address. 
• E-Gift Cards cannot be exchanged or redeemed for cash
• E-Gift Cards can only be used on the U.S. website only
• Cannot be paid with installments app